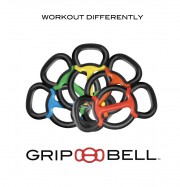 Gripbell released a new stretch goal of $500,000 alongside with incentives as the company enlisted the 6 Digits Club, top one percent of all Kickstarter campaigns, by raising more than $265,000 in merely few weeks time.
Pleasanton, California , February 29, 2016 (Newswire.com) - With a week left in the Kickstarter campaign, after surpassing two stretch goals, Gripbell recently announced the third stretch goal. Mark Wood, Gripbell creator and founder of Barxbell, LLC who is Deaf, has released a new stretch goal of $500,000.
Wood said that if we were to reach $500K goal, the team would develop Gripbell in heavier weights beyond the current maximum weight of 12lb. The new heavier weights would be ideal for professionals and those who seek to maximize their strength.
Three weeks after launching, Gripbell has spurred more than $265,000 from over 2,100 sponsors.  This has Gripbell recognized in the elite bracket, the top 1% of all Kickstarter campaigns, also known as 6 Digits Club. Needless to say Gripbell has exploded into the market successfully, which is attributed to the excitement about the ingenuity of the first-of-its-kind product and the creator's backstory. Gripbell has been featured in Towleroad, Next Magazine, Club Industry, and BWW Fitness World.
Wood and his entire team including Nyle DiMarco, America's Next Top Model Cycle 22 winner, who featured in the viral videos, are Deaf. Wood said, "All of the members of my team are Deaf and we communicate through videophone, email and basecamp, which has been efficient thus far. We believe that we are equally capable as any other company!"
Gripbell is designed to anyone at any stage of fitness, from pros to amateurs of all ages, to do more in their fitness routine with less equipment. There is no limit to what the versatile Gripbell can be utilized for including stretching, physical therapy, strength exercises, yoga, dance, aquatics, oar-rowing routines, and more. Its design allows the user to easily exercise at home or on the go.
Thanks to the supporters, Gripbell is approaching the finish line victoriously. Visit Gripbell's Kickstarter campaign to lock in your pledge own one at a discounted rate before the price goes up. The campaign has structured a variety of pledge levels aimed at individuals interested in purchasing an individual weight to an entire set. There are also levels geared toward larger volume for gym or fitness businesses.
About Barxbell, LLC
Barxbell, LLC, established in 2015, innovates and markets Gripbell to replace the existing dumbbell, barbell and kettlebell workout equipment. Gripbell is an innovative versatile workout equipment that delivers far more workouts and functions than meets the eye. To learn more, visit Gripbell.com.